From Covidien | Item #: 681605 | UOM: Pack (20)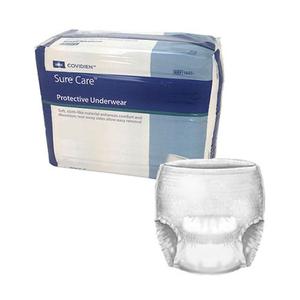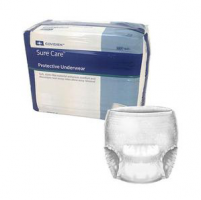 SureCare™ Protective Underwear, Unisex, Adult, Medium, 34" to 46" Waist Pull Up View more
SureCare™ Protective Underwear is a dignified, discreet, disposable underwear-like product used for moderate to heavy incontinence protection. SureCare™ Underwear have the look and feel of real underwear while providing outstanding incontinence protection. Cloth-like backing for comfort and dignity. Tear-away sides offer easy removal, and the Poly-fresh™ polymer core offers optimum absorbency and odor control.
Quiet, soft, cloth-like moisture barrier.
Stretchy, breathable material.
Wide, super absorbent gel core.
Flexible gathers offer snug, secure fit to prevent side leakage. Tear away sides provide quick and easy removal.
Ultrasonic side seal.
Color thread located at rear of underwear waistband.
Green strands band
Cloth-like barrier protects against leaks to keep clothing dry.
Super polymer for added odor control.
Underwear-like.